TERRY DEARY - THE AUTHOR

Terry Deary was born at a very early age, so long ago he can't remember. But his mother, who was there at the time, says he was born in Sunderland, north-east England, in 1946 - so it's not true that he writes all Horrible Histories from memory. At school he was a horrible child only interested in playing football and giving teachers a hard time. His history lessons were so boring and so badly taught, that he learnt to loathe the subject.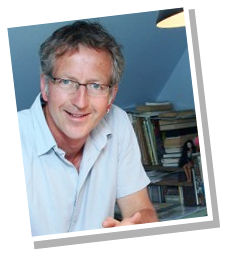 MARTIN BROWN - THE ILLUSTRATOR

Martin Brown was born in Melbourne, Australia, on the proper side of the world. Ever since he can remember he's been drawing. His dad used to bring back huge sheets of paper from work and Martin would fill them with doodles and little figures. Then, quite suddenly, with food and water, he grew up, moved to the UK and found work doing what he's always wanted to do: drawing doodles and little figures.
Lewis Carroll told a story about a place called Wonderland to a little girl called Alice. The little girl said, "You should write it down or it will disappear!" So he wrote Alice in Wonderland which became a classic book. Even though I have published over 270 books I still get a thrill from seeing every new book of mine when it's published. Is that being big-headed?
WHEN DID I START WRITING?
I started writing when I was about twenty-nine years old, but I have met a girl who wrote a book when she was seven years old and a lady who had her first book published when she was eighty-two. Age doesn't matter when it comes to writing.
HOW LONG DOES IT TAKE ME TO WRITE A BOOK?
A book takes me between six hours and six weeks to write, depending on how long it is and how difficult it is to get the information together. Some authors take ten years or more to write a single book. Of course I work six days a week – Sunday is my only day off. In March 2009 I wrote six books in 4 weeks!
HOW MANY BOOKS HAVE I PUBLISHED?
I have just finished writing my 270th book and have many more planned. I am also writing scripts for Birmingham Stage Company's theatre tours. Many of my books have been translated into 40 languages. Not everything I write gets published. Some writers spend all their lives writing books and never get anything published so I guess I must be very lucky.
WHY DID I START WRITING HORRIBLE HISTORIES?
Over twenty years ago, I started writing Horrible Histories because a publisher asked me to write a funny history book. I discovered an amazing secret; children love hearing about the dangerous and the disgusting things that people used to do to one another. They want to learn about the foul food, the terrible toilets and the torturing teachers. They even love my jokes that are older than Queen Victoria's granny. Who'd have thought it?
WHAT IS MY FAVOURITE HORRIBLE HISTORIES BOOK?
I love the English language so I was really pleased when I was asked to write Horrible Histories Special: Wicked Words.
Where were you born and where do you live now?
Where were you born and where do you live now?
I was born in Melbourne, Australia and I lived in a place called Mount Waverley. Now I live in Dorset, England.
Did you like school and what was your favourite subject?
I didn't mind school; I just didn't like the work that much. I certainly didn't like homework – school work is for school I say. However, I loved art. I got an "A" in art for every single year I was at school – except for my last year, the one that really mattered. I knew I'd do well; I always did, so I didn't need to work as hard as the others. I very nearly failed. Lesson? Lazy gets you zip.
How did your illustrating career begin?
With the writing I do and the style that I have, really I'm a cartoonist. And that's how it started. My first paid work was for one of those free London magazines you get at Tube stations. Then Readers' Digest and greetings cards. Both are great places to learn the importance of humour and how to make an idea work.
What books do you enjoy reading?
I like non-fiction. I like to find out about why stuff is the way it is, whether it's history, kangaroos or solar systems. I do like fiction too; a story that grips and writing that I can lose myself in.
Which was your favourite Horrible Histories book to illustrate?
I've still got a soft spot for the Terrible Tudors. It is the first one we did and it's where we set up the ideas that would bring us to where we are now. I like Vicious Vikings and Savage Stone Age too – I think they're funny. Of the more recent ones, I'm quite proud of Ruthless Romans – nice drawings, it's really interesting and there's lots of blood! Like we always say, history with the nasty bits left in.